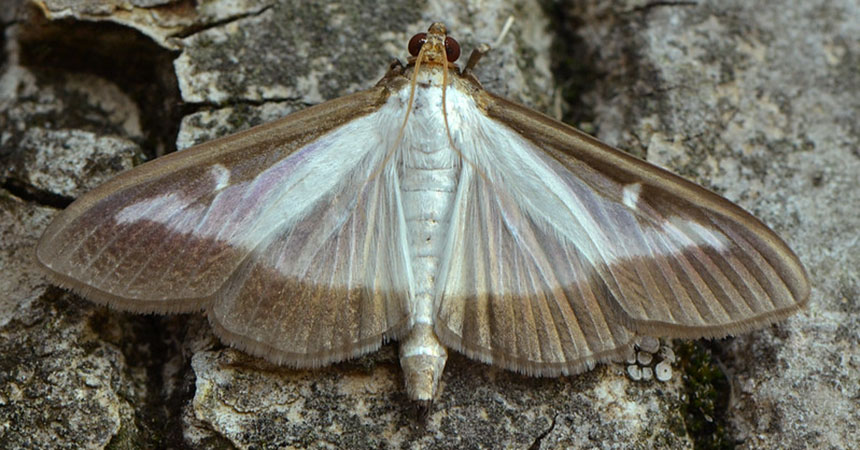 IDaids supporting identification of the introduced box tree moth
In May of this year, USDA confirmed the presence of box tree moths in the U.S. The pests likely hitchhiked here via infested plant material imported from an Ontario, Canada nursery. APHIS has initiated an emergency response including a Federal Order halting host material from crossing the border pending risk analysis.
Native to East Asia, the box tree moth has been spreading across Europe and surrounding regions since its introduction there in 2006. In 2018, the moth was confirmed in Canada, marking the first record of its presence in North America. Studies suggest these moths are strong fliers, but their rapid expansion is largely due to human activities, such as the movement of host plants.
Box trees or boxwood (Buxus spp.) are the moth's preferred host, hence its common name. Boxwood is an economically important and popular ornamental evergreen that grows well in many regions. It's used in wood products (e.g., instruments) and in many residential and professional gardens. For instance, the U.S National Arboretum showcases over 180 types of boxwood in its gardens, which is the most complete collection of temperate boxwood in the world. Box tree moths have also been recorded attacking other plants including holly (Ilex sp.), burning bush and Japanese spindletree (Euonymus spp.), ash (Fraxinus sp.), and maple (Acer sp.), among others.
Adult box tree moths occur in both light (white and brown) and dark (all brown or grayish) color forms, though the light form is more typical. The caterpillar goes through six instars before it enters metamorphosis, and depending on the local climate, a population could produce up to five generations a year. The eggs and early instars are fairly inconspicuous, so watching for early indicators such as frass and/or webbing may be easier ways to detect a potential infestation. Mid to late instars are green and yellow with distinctive black stripes and spots that are outlined in white. Larvae feed on the leaves until a host is defoliated, then they consume the bark, causing girdling and eventual host death.
Here is a set of resources supporting identification of this pest to help protect America's boxwoods.
Visit Search IDaids to find identification resources for other pests and diseases that affect agriculture.