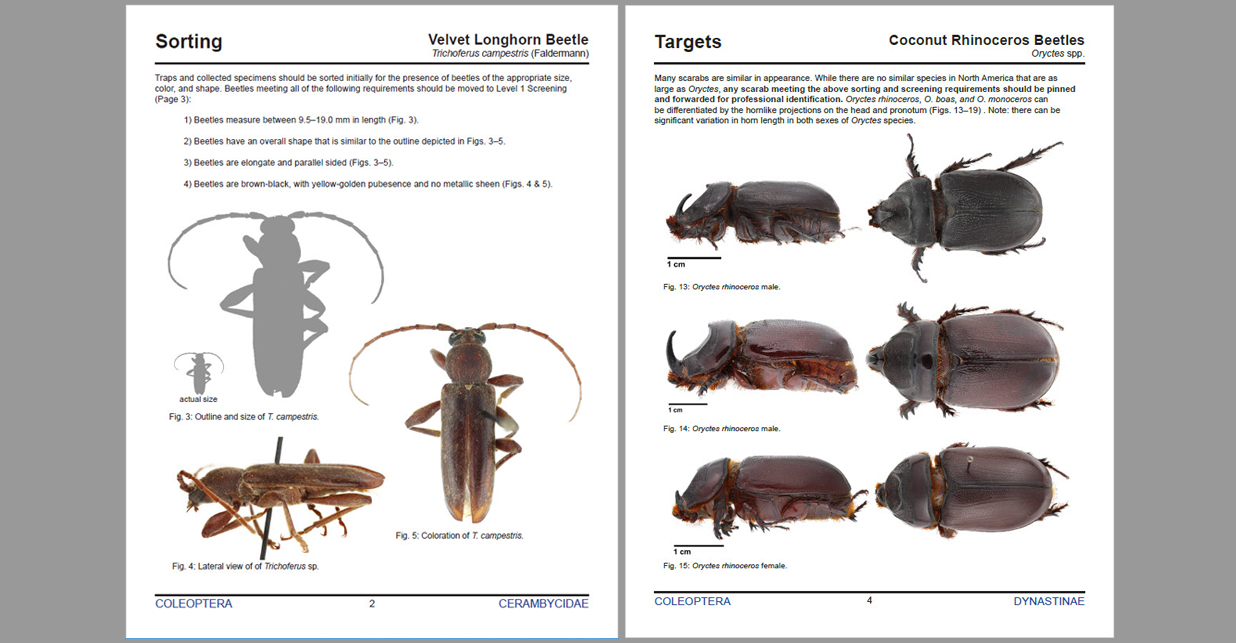 Seven new screening aids released for CAPS surveys
ITP is pleased to announce the release of seven new screening aids for important Coleoptera and Lepidoptera pests. These were designed specifically to be used when examining traps or through visual inspection as part of surveys conducted by state cooperators for the APHIS PPQ Cooperative Agricultural Pest Survey (CAPS) program. CAPS surveys help officials monitor and gather data about pests on high-risk hosts and commodities, including pests that may have been recently introduced to the United States. Screening aids are an essential resource for CAPS cooperators because they provide basic information and instructions to sorters and screeners who may have little or no experience with the target group.
The new screening aids for city longhorn beetle, Agrilus of concern, pinecone and bamboo longhorn beetles, tomato fruit borers, coconut rhinoceros beetles, spruce longhorn beetles, and velvet longhorn beetle, include:
background Information about the pest's damage to hosts, distribution, life cycle, and taxonomy;
description of diagnostic characters;
clear, step-by-step screening guide: from basic sorting, to level 1 screening, followed by level 2 screening;
short dichotomous keys to distinguish the pest from others it might be confused with;
detailed photos of host damage, targets and non-targets, adults and larvae, and diagnostic characters;
outline illustrations for quick recognition of pest shape and actual size; and
references for more information on the pests.
All of ITP's CAPS screening aids can be found on the ITP website and on the CAPS Resource and Collaboration site Screening Aids page.